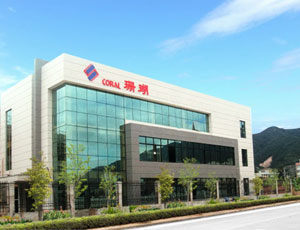 Coral Foodstuff Machinery Co., Ltd. is one of the largest manufacturers of fully-automated wafer production lines in China. More specifically, we offer production lines for tasty treats such as flat wafer, soft wafer biscuit, Special-shape wafer biscuit, and chocolate hazelnut ball. Each line consists of multiple sets of equipment including the batter mixer, cream mixer, cooling tower, cooling cabinet, sheet receiver, picking machine, cream spreader, tunnel baking oven, etc.
Inaugurated in 2002, our core technical staff consists of highly qualified professionals with years of industry experience. We utilize premium components from internationally renowned brands, guaranteeing the stability and performance of our production lines. Energy-efficient and easy to maintain, these eco-friendly machines are designed for intuitive operation. Distributed both domestically and overseas, our products have received positive reviews from customers around the globe. We export to countries and regions including Syria, Brazil, Algeria, Jordan, Turkey, Poland, Finland, Romania, Indonesia, Pakistan, Viet Nam, the Philippines, Bangladesh, Uzbekistan, etc.
Here at Coral, customer service is a top priority. Word of mouth is an excellent method of brand promotion, and customer satisfaction is what we are all about. Our company offers excellent pre-sale and after-sale services. A team of highly experienced engineers are on standby, ready to assist users with installation and maintenance procedures.
Milestones
1. In June 2008, our company successfully obtained the ISO9001:2000 certificate which further defined our scope of operations: the design, manufacturing, and sales of extrusion food machinery.
2. In April 2010, we participated in the first ever Large-format Machinery Exhibition at the Canton Fair of the Guangzhou Pazhou Pavilion. This 5-day exhibition started on the 15th and ended on the 19th. Our booth was frequented by potential overseas clients, many of whom later toured our facilities.
3. In Sep. 2011, we attended the Industrial Baking Expo at the International Exhibition Center within the Shanghai Pudong New District. Our display consisted of the 51 plates baking oven. This machine garnered the interest of many prospective customers, resulting in numerous requests for a more in-depth look, i.e., detailed technical specifications.
4. In August 2012, we relocated to a brand new factory that occupied over 7500m2. The no.1 workshop is now in full production; the no.2 workshop is still under construction.