Soft Wafer Biscuit Production Line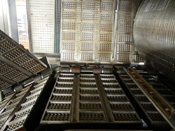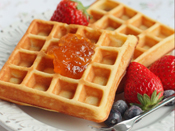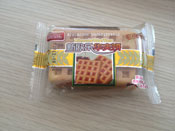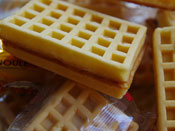 This soft wafer biscuit production line is 65 mould type, and it is our self-developed product to meet the market demand of food industry. The baking oven adopts unique design, and the automatic batter feeding device allows accurate and steady action. Meanwhile, the rotary drum wafer picking technique is adopted, and the demoulding rate is increased greatly. In addition, PLC is equipped, and the control panel allows easy and direct operation.
The tunnel baking oven is the most important part for a full automatic gas heated wafer production line, and our baking oven has some superb features, as listed below.
1. The baking oven is scientifically distributed, and it has compact structure only taking up a little floor area. Its body length is much shorter, only 2/3 of similar product.
2. The motor is provided by German SEW, the bearing and electric parts/switch are supplied by French SKF and German Schneider, respectively. In addition, PLC is adopted to ensure the stable working of oven.
3. The oven features high level automation, and it can be operated independently. What is more, it allows easy operation as well as convenient maintenance.
4. The demoulding rate is high, and the rate of finished product can reach up to 98% or even higher.
5. The shell and other parts that are in contact with food are made of 304 stainless steel while the conveyor uses food grade PU belt. So, our product meets the national standard and food hygiene standard.
6. Our patented burner nozzle is used by the combustion system, and the patent number is 2009201947728. It adopts unique energy saving design which saves energy greatly, and the pollution to environment is also significantly cut down.
Based on the features of this specially designed soft wafer production line, our product is very suitable for large company and other clients that already have wafer production line. In addition, this product is directly designed and manufactured depending on the specific requirements of customer.
Technical Parameters
1. Production capacity: 8 tons/24 hours
2. Baking plate size: 470mm×325mm
3. Wafer biscuit size: 80mm×50mm×12mm
4. Total power: About 18kW, and the power supply is 380V/50Hz.
5. Gas pressure: 0.8Mpa
6. Fuel gas consumption: 32kg/hour for liquefied gas, and 58m3/h for natural gas.
7. Overall dimensions (L×W×H): 14.0m×2.0m×2.2m
8. Total weight: About 19 tons
9. Number of operators: 2 people is enough for this production line.
10. Testing staff number: 1 person
11. Shipping: 2×40' container
12. Others: This product is equipped with flue, exhaust fan as well as air compressor.
Composition Facilities
| | | |
| --- | --- | --- |
| No. | Name | Qty. |
| 1 | 65 mould baking oven | 1 |
| 2 | Sheet receiving conveyor | 1 |
| 3 | Cream mixer | 1 |
| 4 | Cream mixing and storage kettle | 1 |
| 5 | Wafer biscuit cooling tunnel | 1 |
Quality Acceptance
This soft wafer biscuit production line is designed for the smooth production of wafer biscuits, and the baked wafer has uniform color on the surface. The tolerance of the weight should be within 1 gram, and the end product should possess uniform shape without burr or tailing. During production, the discharge device should ensure 100% demoulding, and the wafer shape is not changed when discharging. In addition, the percentage of broken wafer should be lower than 1% during discharging. On the other hand, the machine should run steadily without any abnormal noise, and the output and energy consumption are detected at the same time.
Related Names
Full Automatic Soft Wafer Beltline | Automation Soft Waffle Product Line | Full Automation Soft Waffle Biscuits Making Device | Automatic Soft Wafer Producing Facility